21st Annual Summer Solstice
Drumming Down the Sun & Yoga
Thursday, June 21, 2018
Please note: Lakeside Park is open again, so the St. Catharines event is back at Lakeside Park in Port Dalhousie.
Please bring a yoga mat or blanket and a donation. Donations cover city park permit fees etc., and a portion goes to the Niagara Land Trust.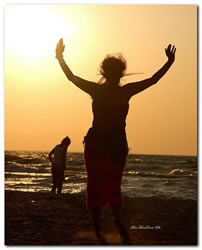 Locations:
Lakeside Park - Port Dalhousie
Charles Daley Park, Jordan - West Beach (gate locked at 10:00 p.m.)
Ryerson Park, Niagara Blvd., Niagara-on-the-Lake
Lakeside Park, Port Dalhousie, St. Catharines
7:00 ~ 7:45 p.m. Join Andrea Lynn Dragicevic from Ganga Moon Yoga for 'Yoga on the Beach'.
8:00 p.m. ~ Sunset we'll be Drumming Down the Sun

Funding generously provided by the
St. Catharines Cultural Investment Program

Charles Daley Park, North Service Road,
Jordan - west of Seventh Street
Drive into Charles Daley Park and take the right lane up to the parking lot and then walk down the stairs to the West Beach (where there may be a few parking spots and wheelchair accessible spots too). When you enter the gate, go to the left branch straight toward the lake. Accessible parking on the right. At the West Beach, wheelchairs and scooters can sit along the grassy verge or wherever works to take part.
7:00 ~ 7:45 p.m. Join Sophie Campbell from True Heart Niagara for 'Yoga on the Beach'.
8:00 p.m. ~ Sunset we'll be Drumming Down the Sun
Ryerson Park, Niagara-on-the-Lake
7:00 ~ 7:45 p.m. Join Fox Den Yoga for 'Yoga in the Park'
8:00 p.m. ~ Sunset - Join drum facilitator Kevin Hotte, the owner of Circular Motion Canada to find your inner rhythm.
The NOTL event will be cancelled if it rains because there is no shelter.
More Important Information
Bring a drum, a pot - or anything to shake & rattle!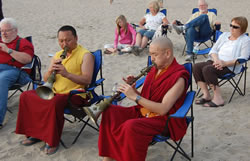 The Summer Solstice the longest day of the year, has long been held in high esteem by many societies around the world. Join our community drumming circle to celebrate this day. There are no benches or seats, so bring a lawn chair or blanket if you'd like to sit, but be prepared to dance!
This family event was started by Carla Carlson, the owner of Niagara Nature Tours. The first event was held at Port Dalhousie's Lakeside Park in 1998 and has grown to become a gathering of over 400 people. Our drumming circles flow off the sidewalk by the carousel which allows for participants in scooters and wheelchairs to take part and now there is a wheelchair accessible strip straight down to the water's edge.
It has become a wonderful, magical experience, despite parking challenges.
In 2009, we expanded our Drumming Down the Sun to the neighbouring beach at Charles Daley Park in Jordan (Town of Lincoln) to give families the choice of beaches to attend. Parking is easier here but there is a bit of a walk to get to the beach. Lincoln's lovely sandy Lake Ontario beach has a grassy verge which provides accessibility for participants in scooters and wheelchairs.
Thanks to Niagara-on-the-Lake resident Loretta Pietrobon we expanded to NOTL in 2014. The drummers who attended that first year discovered that you can't see the sun set from the beach we had chosen, making "drumming down the sun" kind of hard! Since then we've been meeting at Ryerson Park, Niagara Blvd., NOTL, where we will conduct our celebration in the grassy park above the actual stony beach. If it rains, this venue is cancelled because there is no shelter.
One Solstice, One Lake, Three Beaches
Co-ordinated by Carla Carlson, Niagara Nature Tours